Posted on November 21, 2017 in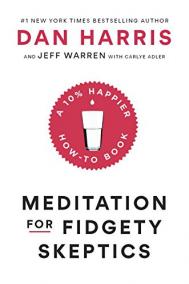 This next installment from 10% Happier author, Dan Harris has been praised by Joseph Goldstein, author of Mindfulness: A Practical Guide to Awakening as, "a goldmine of wise guidance for both fidgety skeptics and experienced meditators alike.
With Dan's usual humorous, self-revelatory style and incisivequestioning and Jeff's down-to-earth transforming wisdom, this book addresses the common obstacles people face as they begin and deepen their meditation practice. Highly recommended." Spiegel & Grau will publish the hardcover December 26, 2017.
For more information, please visit the following site:
https://www.penguinrandomhouse.com/books/541555/meditation-for-fidgety-…