Posted on November 2, 2015 in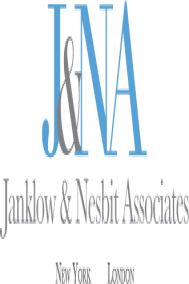 Janklow & Nesbit Associates announces a new ownership and management structure and the election to Partnership of Luke Janklow, Anne Sibbald, Cullen Stanley, Bennett Ashley, PJ Mark and Dmitri Chitov, who also comprise the Board of Directors. The Founding Partners, Morton L. Janklow and Lynn Nesbit, will continue to represent their extraordinary lists, while the day-to-day management of the firm will be handled by Managing Directors, Sibbald; Stanley; Ashley and Luke Janklow, President.
Morton Janklow says, "I am pleased to hand over the operation and further growth of the firm to long-time trusted colleagues." Lynn Nesbit says, "It is terrific for me to be free from management responsibilities to concentrate completely on my authors, expanding my list and helping the agency flourish."
Luke Janklow says: "We have an energetic and creative global team, always exploring new possibilities to serve our clients in innovative ways. This new structure promotes greater expansion for the firm and builds upon our wonderful legacy."
Janklow & Nesbit Associates is a premier boutique literary agency with offices in New York City and London.